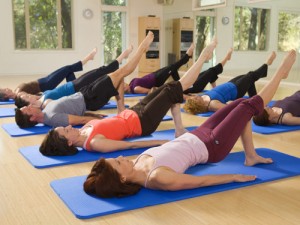 A body conditioning routine, Pilates is the latest trend in fitness that you can add to your workout programme.
It seeks to build flexibility, strength, endurance, and coordination without adding muscle bulk. In a bid to tone up your muscles and stomach and feel more graceful and slim, Pilates is a must for people who are looking forward to better posture and maximized overall health. Today, Reebok Master Trainer Vinata Shetty helps us understand how Pilates can help us build a strong and lean frame.
Origin of Pilates. Pilates is essentially a physical fitness system developed in the 20th century by Joseph Pilates from Germany and it was originally used to rehabilitate bedridden or immobile patients during World War I.
Pilates is different from other forms of exercise, especially Yoga. While Pilates has its origins in Yoga asanas and both are mind – body exercises (exercises that require the right balance of mindfulness, correct postures and concentrated breathing to enjoy all the benefits they have to offer), Yoga goes a step further and is a teaching of mind, body, and spirit, adding the spiritual angle. And unlike yoga, Pilates is not a life philosophy.
Pilates is different from regular abdominal, back and hip exercises. Pilates is also different from other regular hip and abdominal exercises. Pilates is a form of mind-body exercise, aimed at strengthening your core muscles, using your body weight. One can perform unlimited body positions in Pilates such as seated, supine, standing, kneeling etc. It is functionally useful and very effective for maintaining proper form and alignment for various activities of daily living and sports needs.
Accessing Pilates sessions. There are some exclusive Pilates hubs, as well as certain fitness centers and gyms that offer these classes. Personal trainers who are Pilates-certified are a good bet too.
Important principles of Pilates.
– Proper posture/form
– Quality of movement over quantity
– Proper breathing
– Effectively establishing mind-body connection
– And slow-to-gradual gradual progression.
Top 5 benefits of Pilates
– Increase in functional strength.
– Improved flexibility.
– Increase in core control and core strength.
– Improved posture and better movement quality.
– Keeps spine strong, stable and injury free.
Who should go for Pilates? Pilates is beneficial for all. From the elite athlete to the housewife; from the student to senior professional; irrespective of the gender or age group, Pilates benefits are universal. If you already do Yoga, you could try Pilates for a variation and it's quite possible that you can do two completely different classes without them overlapping. If you don't do Yoga currently then Pilates is most certainly a valuable addition to your fitness routine, and can help you achieve a long, strong and lean frame.
Equipment used in Pilates. You can do basic mat Pilates, which doesn't require any equipment other than your own body. But add on and progressions can include the magic ring, reformer, wanda chair, cadillac etc.
Read more Personal Health, Diet & Fitness stories on www.healthmeup.com