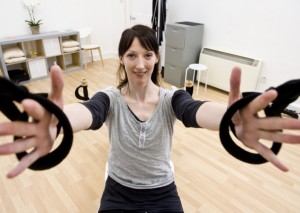 A DECADE ago, her dreams of becoming a classical ballet dancer were shattered by a rare muscle weakening disease.
However, having thought she would never dance again, Rhona MacLean is back on her feet.
The Morningside ballerina was struck with fatigue, double vision, slurred speech and droopy eyes aged just 21, and subsequently diagnosed with myasthenia gravis.
She said: "It was very, very, hard to come to terms with when I realised I wasn't going to have a professional career. At the time, I was going all over Europe for auditions and I took my career very seriously.
"Part of your identity is wrapped up in what you do, especially if you're a dancer." It was an American fitness system that got Rhona, now 30, back on her feet, allowing her to perform dance-like exercises. Not only has it helped slow down the progression of the disease but she has found the energy to set up a health and fitness business in York Place.
Originally from Fort William, Rhona trained at the Ballet West school in the Highlands and was highly commended in her advanced exam with the Royal Academy of Dance. Her career even saw her perform in India.
She said: "I really wanted to get a job as a classical ballet dancer, that was my dream. I was working and auditioning in London when I got ill – I just couldn't control my limbs and I had speech problems.
"At 21, I couldn't dance any more and at that point I was diagnosed with chronic fatigue syndrome."
It was only when Rhona visited an emergency eye doctor at the age of 24 that she was told she was suffering from Myasthenia Gravis.
The fitness technique that has given her a new lease of life is known as the Gyrotonic expansion system, derived from yoga, swimming, ballet, Tai Chi and gymnastics.
Using a machine that works like an adjustable pulley tower with weights, users perform a variety of dance-like exercises.
Rhona is now a qualified Gyrotonic instructor and has opened a fitness studio, teaching hour-long, one-to-one sessions. The venture was made possible thanks to a £7000 loan from ethical lender DSL Business Finance, based in Glasgow.
Rhona said: "It's been really great to go into the classes and feel strong and I suppose the pressure is off as I'm not a professional dancer any more.
"It's just funny where life takes you – this is fulfilling that part of me completely."